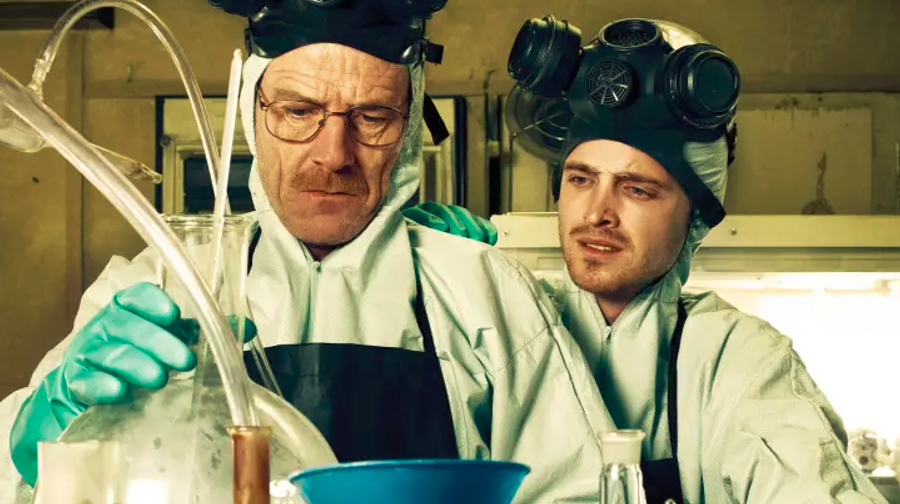 – a book by Williams Llewellyn
While there are many books on the types, dosages, cycles and side effects of anabolic steroids from numerous authors, you may be hard pressed to find a book on the intrigues involved in supply, distribution and marketing of prohibited androgenic-anabolic steroids.
Williams Llewellyn and Ronny Tober in their 2010 book titled – 'Underground Anabolics' brings to the fore the mechanisation of trade in banned steroids. This comprehensive book takes you on a seemingly hazardous journey into the dark world of illegal steroid business.
'Underground Anabolics' is a revealing, informative, educative and thoroughly entertaining book that would give readers a clearer perspective on the pathway of illegal anabolic steroids from the production line to homes around the world.
'Underground Anabolics': An Overview
'Underground Anabolics' is a nine chapters, 208 paged book by Williams Llewellyn with contributions from Ronny Tober. The first part is aptly titled – 'Prohibition – Anticipating Results' (pgs.3 to 12).
This chapter starts with an introduction to prohibition by providing insightful information on drug supply and prohibition. Readers would also be interested to learn about some modern day examples of drug prohibition as well as the contaminants or adulterants of the most common illegal drugs available on the streets.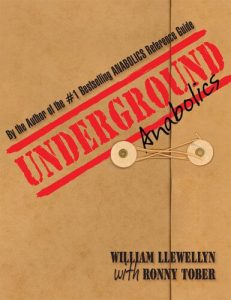 The second chapter titled – 'The Evolving Steroid Supply' (pgs. 13 to 26) dives into the history of illegal trade in anabolics even before prohibition. It talks about the 1985 restriction on illicit drug supply, the 1986 unravelling of underground laboratories in Mexico and the start of the steroid prohibition in 1988.
Williams Llewellyn even mentions the 'Federal Anabolic Steroid Control Act of 199' (pg. 16) in his book and discusses  the 1992 to 1999 imports of illegal drugs from both Asia and European countries.
You then round up this chapter by learning more about the 'Mexican Market Takedown of 2005' (pg. 22) and how in 2006 the illegal trade in anabolics goes underground.
The third chapter – 'The Illegal Steroid Business' (pgs. 27 to 48) looks at the shady business side of anabolics. You will get to know the main countries where prohibited steroids are produced while understanding how organized crime is fully involved in this business.
There will be no trade in illegal steroids without consumers, so Williams Llewellyn gives an exposé of 'An Evolving Consumer Market' (pg. 35). He also examines why it is difficult to put an end to the illicit anabolics trade and exposes the current trends in steroid use.
As you flip over to chapter 4 of this book – 'Pharmaceutical Steroid Manufacturing' (pgs. 49 to 68), you will get to know more about 'A sceptic Processing' (pg. 49), 'The Inside of injectable Manufacturing' (pg. 52) and 'The intricacies of Tablet Manufacturing' (pg. 64), this is a truly revealing chapter and one that you should read with keen interest.
Chapter 5 titled – 'Underground Lab Busts' (pgs. 69 to 88) talks about the major crackdowns of the illegal operations of unscrupulous individuals and shady companies in Western and Eastern European countries.
As you complete chapter 5 and move to the sixth chapter – ' 3rd Party Lab Analysis Reports' (pgs. 89 to 110), you are inundated with several reports on illegal anabolics trade in the U.S, German, and the Netherlands.
Chapter 7 of this book – 'Underground Steroid Manufacturing' gives you a comprehensive 'Overview of Underground Laboratory Types' (pg. 111) as well as takes you on a tour of a typical underground laboratory.
This chapter reads like a classic spy novel and also takes you on a covert mission to uncover 'Underground Tablet Manufacturing' (pg. 119) labs and to give you an insight into the inner operations of these labs from the mouth of an underground chemist.
You will also learn the most common issues with underground anabolics including injectables and oral products as well as the possible health risks involved in consuming these illicit drugs.
The eight chapter analyses black market steroids looking at the different products produced by pharmaceutical companies predominantly from Asia and Eastern Europe. The book concludes chapter 9 which evaluates steroid prohibition.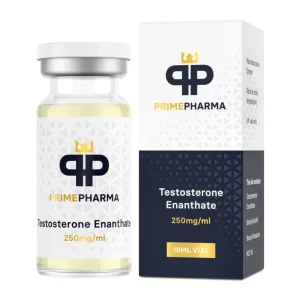 Prime Pharma One of the best known brands
In Conclusion
Williams Llewellyn does a really good job in breaking down every aspect of the illegal trade in anabolic steroids in 'Underground Anabolics'. This book is recommended for anyone that wants to know the ins and outs of the business for research purposes.
This book also sheds light on the dangers of using adulterated products from unscrupulous dealers. It is an eye-opener for bodybuilders and other athletes who rely on anabolic steroid use to enhance their overall physique, strength and athletic performance.
Williams Llewellyn's 'Underground Anabolics' is an insightful book and a great read.