This post is also available in:
Français
Italiano

Español
Melanotan 2 is a peptide known for tanning. Called MT-1 or MT-2, it stimulates alpha melanocyte receptors. The reaction forms enough melanine, a natural dye in the human body, to encourage tanning from sun exposure or even without sun, which is beneficial for avoiding harmful UV rays according to tanning research. An MT treatment is estimated to take a little more than two weeks or even a month to obtain the desired effect. Melanotan can also by taken cyclically to improve or maintain a tan.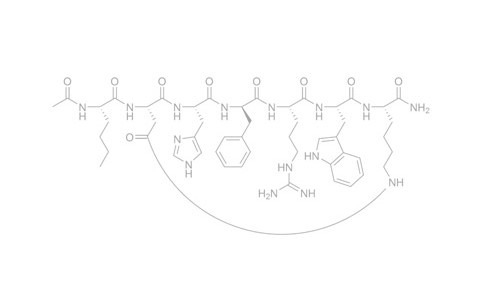 Melanotan 2 is three times stronger than Melanotan 1. They were created by researchers to offer people the ability to have evenly bronzed skin without risking skin cancer from sun exposure.
Melanotan's effects remain visible over the long term. In some cases, a cycle's effects can take more than a year to disappear. You must also know that for some, maintenance cycles can cause permanent effects.
Some undesirable effects like nausea, dizziness, headaches and redness in the face, especially after an injection, have been revealed. Diminished appetite is also reported, which can be positive or negative depending on your diet. Most of the time, negative effects stop after you finish taking Melanotan. Freckles can appear without being too visible thanks to you tan and beauty spots may darken. All this disappears after you stop taking Melanotan.
MELANOTAN Effects
Positive Effects of MELANOTAN
Reduce body fats
Reduce the incidence of sun-damage skin
Reduce the risk of Melanoma
No sunburn and tan lines
Skin pigmentation
Avoid painful surgical procedure
Dark tan with less exposure
Enhance recovery time
Aphrodisiac effects with erectile dysfunction in men
Encourage weight loss
Negative Effects of MELANOTAN
Skin cancer (Melanoma)
Deepen the color of moles
Melanonychia
Spontaneous erections
Facial flushing
Muscle cramp
Fatigue
Yawning
Flushed complexion
Stomach cramps.
Melanotan Dosage
Melanotan dosages are only taken one injection per day, and beginners should take its half dose twice a day because it may cause various side effects. Here is the best-recommended dosage for Melanotan:
For Tanning Skin – The typical dose is 0.025 mg/kg.
For Erection in Men with ED – The typical dose is 0.025 mg/kg.
Users can't exceed the limit of 2 mg per day because it may cause severe side effects. When you're using 1 mg per day, you should divide the dose and take the half dose twice a day to get effective results. Note that you can use the Melanotan dose for more than 30 days.
Melanotan Use
Melanotan steroid is one of the best supplements that is used for various purposes such as:
Improve sexual function
Improve erectile function
Regulate blood sugar
Reduce hunger
Tanned skin
Improve impulse control
Reduce alcohol intake
Prevent from skin cancer
Rosacea
Fibromyalgia
Difference Between Melanotan I And Melanotan II
Melanotan I is a full-length peptide, whereas Melanotan II is a short length peptide. Both of these peptides have tanning effects. Some Melanotan II users have reported some side effects such as loss of libido, erectile dysfunction, and many more. Melanotan II is cheaper than Melanotan I. Both of these serve as an excellent tool to ward off skin issues. Melanotan II is more potent compared to Melanotan I.
When users are searching for an accessible tanning agent, Melanotan II is the best choice for them. Melanotan II is a strong and effective drug for tanning. When users are looking for a safe tanning solution Melanotan is the best option for them. Both of them are effective; it depends on which purposes you're looking for.
Melanotan 2 Usage and Dosage
It is necessary to only make one injection per day. But true beginners should compensate for the side effects by taking only a half dose twice a day to start, one in the morning and one in the evening. This will help them to evaluate their MT tolerance before determining the right quantities to take. Melanotan is a powder that you mix in a vial and store in the refrigerator. Once the necessary water is added in the vial, Melanotan intake should not exceed 30 days. The Melanotan dose should never exceed 2mg per day. It's recommended to only take 1mg per day, knowing that a half dose can still bring the desired results.
sponsored advertising: